Post Amphan Relief Drives in Sundarbans
25 May 2020 onwards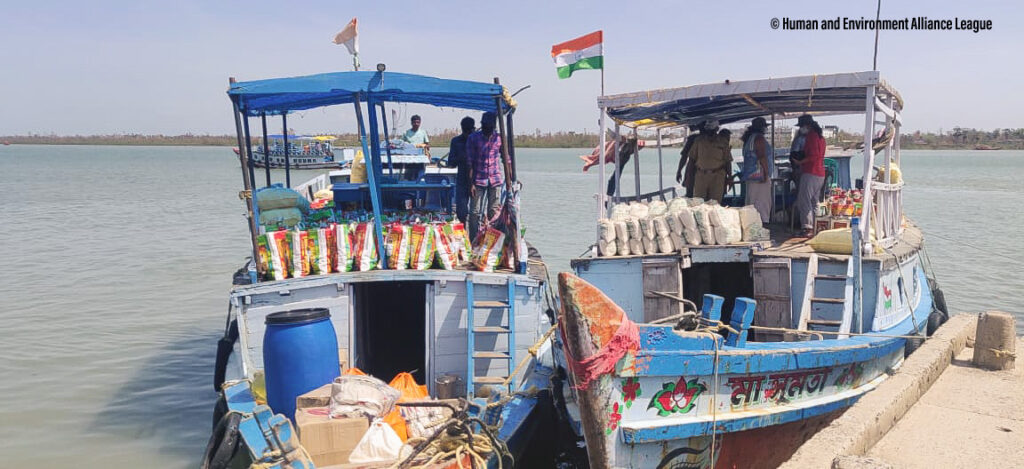 On 20 May, 2020 Cyclone Amphan hit Southern West Bengal and left behind a trail of devastation in and around Sundarbans. Bunds broken, farmlands inundated, houses blown away, buildings collapsed and trees uprooted leading to unprecedented loss of life and property. Villagers in the thousands were stranded, without shelter and/or food. The breaking of bunds along major rivers led to inflow of brackish water in agricultural fields, destroying crops and affecting soil fertility. This corresponded with the lockdown and the migrant labour returning home. The livelihood of the community in forest villages of Sundarbans were jeopardized. Increased poverty in these villages leads to over-dependence on mangroves and thus was important to help out the affected villagers in this times of crisis.

HEAL, in collaboration with West Bengal forest department, South 24 Paraganas forest division, undertook short term relief activities and is in conducting long term sustainability measures in some of the worst affected villages in South 24 Paraganas on the periphery of Sundarbans. We ran a successful fund raising campaign on social media with generous grants from many individuals and organizations, which enabled us to ramp up the scale of the relief activities.
Short Term
In the short term, the affected areas had a shortage of food and lack of hygiene. HEAL opened up community kitchens in some very badly affected areas where people were unable to cook in their homes. In other areas we provided rations which can be cooked. We provided rice, dal, soybean, vegetables, cooking oil, salt etc to cook proper meals – not just dry rations. The amount is sufficient to feed a family of 4/5 for two weeks.
In addition, HEAL provided soap and sanitary napkins – with a team of female volunteers.
We primarily worked in villages near forests with the help of Forest Department and Joint Forest Management Committees (JFMCs)
Here is the list of short term activities :
25/05/2020 to 29/05/2020 ( 5 days) : Community Kitchen (Langar) at Bhubaneswari village, Kultali Block feeding 700 people every day
30/05/2020: Relief material distribution for 200 families (~800 people) in Sridharpur village in L Plot, Patharpratima block
31/05/2020 : Relief material distribution for 250 families (~1000 people) in Bhubaneswari village, Kultali Block after the community kitchen was closed down and people started returning to their homes.
03/06/2020 : Relief material distribution for 150 families (~600 people) in Chuprijhara village, Kultali Block.
02/06/2020 – 06/06/2020 (5 days) : Community Kitchen (Langar) at Kuimuri village, Nalgara beat, Kultali Block feeding 450 people every day
06/06/2020 : Relief material was distributed to another 500 families (~2000 people) in Patharpratima block G Plot – in the villages of Uttar and Dakshin Surendraganj and Indrapur.
In total, 1100 families were being given relief material (~4400 people), and 1150 people fed through community kitchens between 25/05/2020 and 06/06/2020
Long Term
Long term focus is on generating sustainable livelihood for the affected families in forest villages. Much of the land has been inundated with saline water. Many trees that hold the banks of rivers have been destroyed. Fodder for cattle and poultry is in short supply and those assets are being sold off. We are working with the forest department to work out long term sustenance programs in order to decrease the reliance of these villages on forest resources. There are two approaches:
Rehabilitation of families by providing them alternate means of livelihood (such as seeds, fodder for cattle etc)
Aiding the forest department in forest reconstruction in areas surrounding the villages.
Here are some images of the devastation and our relief drives