Covid-19 Relief Drives
April – May, 2020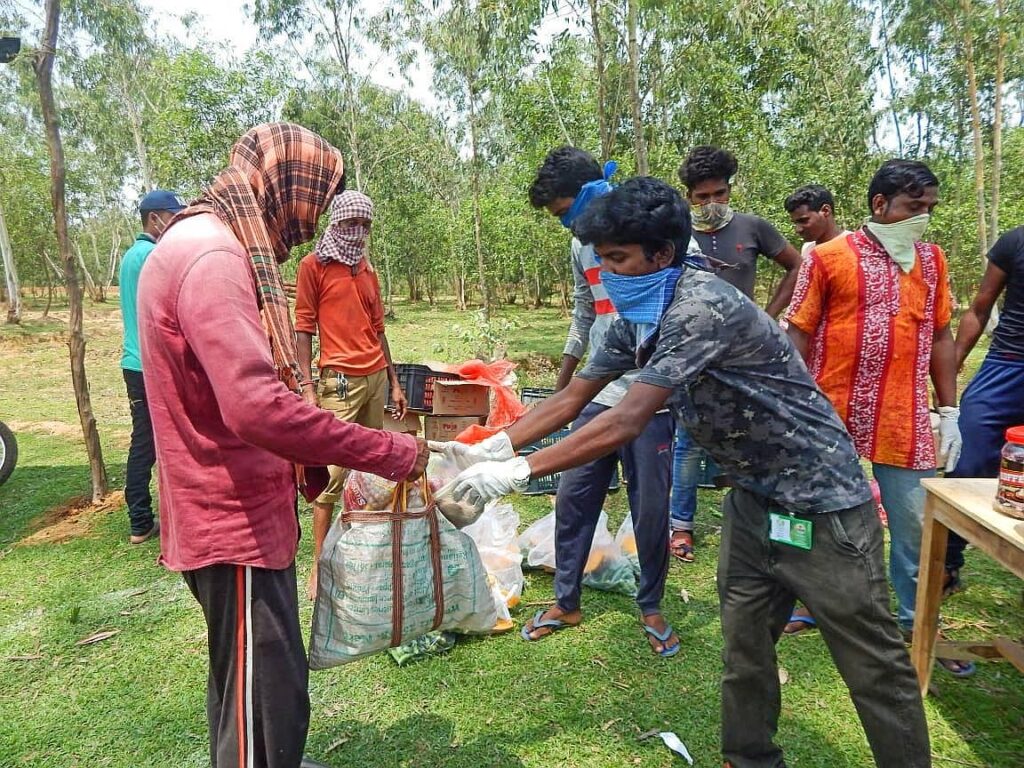 Along with wildlife conservation, HEAL is committed to help residents of forest fringe villages, as their well being is directly related to the health of the forest. An increase in poverty in these villages leads to over dependence on forests and thus it is important to help out the poorer sections of the population living in close proximity of forests in times of crisis. HEAL decided to act in a number of such villages that were facing hardships on account of acute shortage of food caused by the Covid-19 lockdown in March – May, 2020.
West Medinipur & Jhargram
A number of villages in West Medinipur and Jhargram were facing food scarcity caused by the Covid-19 lockdown in March / April, 2020. These villages are located in areas where we work regularly to protect biodiversity and reduce human animal conflict. We planned to distribute food supplies in these villages as a humanitarian effort to help them out through hard times.
On 19 April, 2020 HEAL distributed essential food items to about 80 families in Gurguripal West Medinipur.
On April 29, 2020 HEAL conducted its second round of distribution of relief materials to 60 families in Sushnibari and Patharkumkumi villages in Salboni block, West Medinipur.
On 17 May, 2020 HEAL distributed essential food items to about 140 tribal families in Satbaki village in Binpur II block, Jhargram.
Our members Rakesh Singha Dev, Bapi Mahata and Bappa Mahata conducted the initiative to distribute the relief material in these areas and ensure smooth delivery to the families while following all government mandated measures relating to the COVID-19 pandemic.
---
Sundarbans
As part of its humanitarian efforts to help residents of forest fringe villages during the Covid 19 crisis, HEAL members distributed foodstuffs and other essential items like soaps and masks in Kultali block, Sundarbans. The relief distribution was carried out on May 7 2020, at Chituri Forest Office with the help of the officials of South 24 Parganas Forest Division. The supplies were given to 240 families from surrounding villages, shortlisted by the Forest Department. Most of the recipients of relief materials were fisher folk who are in dire straits because of the ensuing lockdown. A majority of them do not have ration cards and consequently are unable to avail of state sanctioned rations.
Members of PUBLIC (a Kolkata based environmental NGO) and HEAL contributed generously towards this humanitarian cause.
Special thanks to Mr Santhosha Gubbi R, IFS, Divisional Forest Officer South 24 Parganas and his staff for ensuring smooth and efficient distribution of relief materials while observing proper social distancing measures.