Bakhkhali Sea Beach Cleaning Drive
8 March, 2020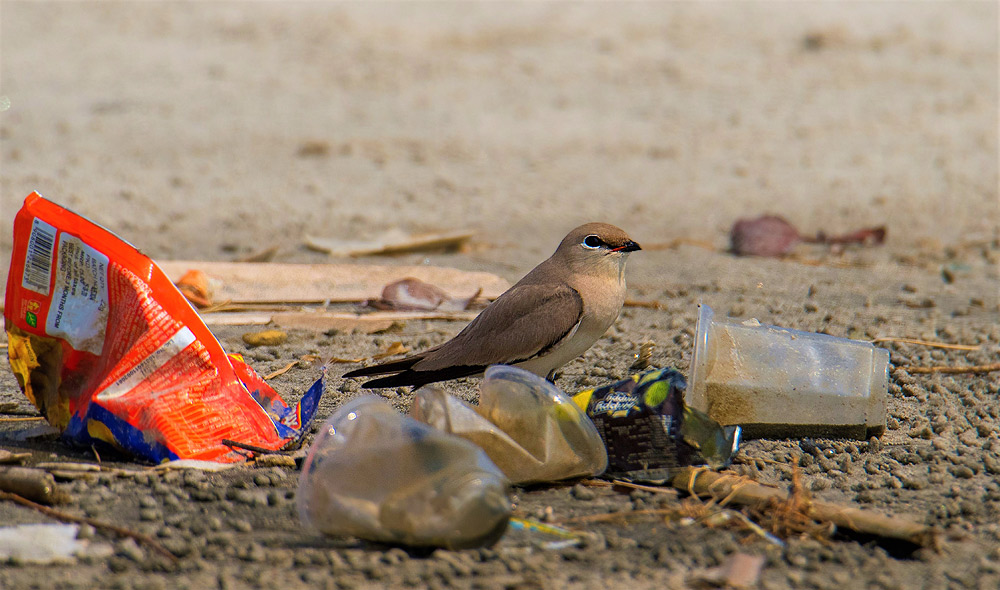 Situated in the Sundarbans Biosphere Reserve in West Bengal, Bakkhali island with a sea-beach lining the Bay of Bengal, is a popular weekend destination for tourists. Bakkhali sea beach is one of the most tranquil and scenic beaches on the long coastline of Bengal, and stretches for about 8 kilometres from Bakkhali to Fraserganj. This beach is not only a place to see beautiful sunsets and go on long walks, but is also a naturalist's paradise.
One of the most conspicuous denizens of the Bakkhali sea beach is the red ghost crab. Colonies of this crab move about on the beach in thousands. From a distance, the congregation looks like a wavy, giant red carpet. One sudden movement and the carpet vanishes to be replaced by grey sand!
Bakkhali and the nearby sea beaches are the feeding and roosting sites for thousands of gulls, terns and shorebirds such as Sanderlings, Whimbels, Curlews, Ruddy Turnstones and various species of plovers, stints and sandpipers. A Spoon-Billed Sandpiper Calidris pygmaea (IUCN Status: Critically Endangered) was recorded from this area in 2018. Great Knot Calidris tenuirostris (IUCN Status: Endangered) and Red Knot Calidris canutus (IUCN Status: Near Threatened) are seen here regularly. The beach also sees sporadic movement of Olive Ridley Turtles Lepidochelys olivacea (IUCN Status: Vulnerable) every year for laying eggs.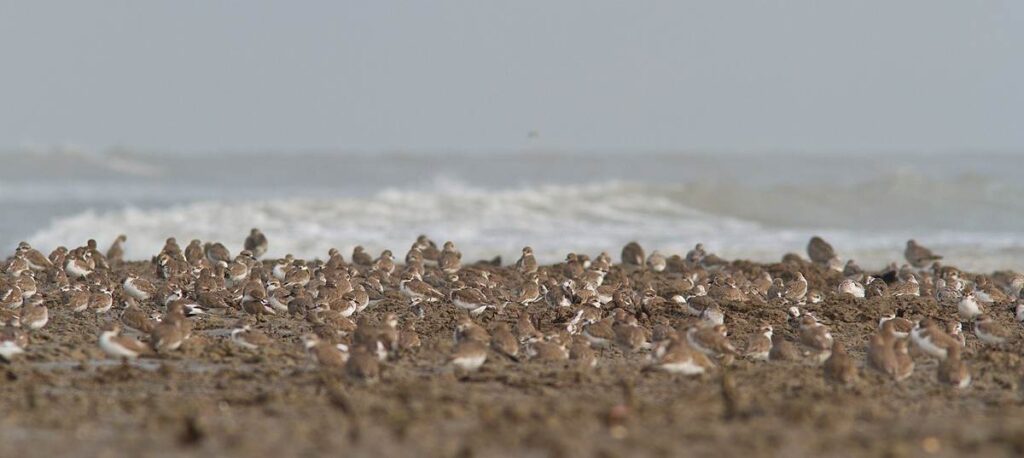 Earlier, the only way to reach Bakkhali was by traveling to Namkhana by road or train and then availing ferry/ barge service between Namkhana and Bakkhali. There were long queues to transport vehicles on barges and the ferry service ended at 5 in the evening. This limited tourists' access to this region. With the construction of a concrete bridge at Namkhana over Hatania-Doania river which ensures shorter and hassle-free travel to the Bakkhali and Fraserganj, the footfall of tourists at Bakkhali and the surrounding beaches has increased drastically. The growing influx of tourists is causing degradation of the local environment. The Bakkhali sea beach is littered with plastic and other solid waste which pose a veritable threat to the local fauna. Currently no mechanism exists to prevent tourists from carrying plastic to the beaches or littering them (e.g. imposition of fines for littering). Lack of such regulations is further exacerbating the problem of pollution at the Bakkhali sea beach.
HEAL decided to make a start towards remedying the waste build-up problem in Bakkhali Sea beach. On 8th March, 2020 H.E.A.L conducted a beach clean-up drive at Bakkhali, in collaboration with South 24 Parganas Forest Division. A team of H.E.A.L members and volunteers from Kolkata and surrounding areas travelled to Bakkhali on the morning of 8th March. They congregated at the office of the local forest department to coordinate with the forest officials, and from there headed to the Bakkhali Sea beach to start the clean-up drive.
Over a span of 5-6 hours, members and volunteers gathered close to 350 kilograms of trash from the Bakkhali sea beach. In addition to the copious quantities of plastic waste, other wastes like ropes, fishnets, glass bottles, styrofoam, diapers, sanitary pads and an alarming amount of chemical and medical waste were found, all of which are extremely harmful for marine life. The amount of waste removed that day was just about 10% of the total amount of trash that was present on the beach.
This was perhaps the first time that such a citizen driven rigorous beach-cleaning exercise was conducted in West Bengal
HEAL plans to conduct more such clean up drives in the near future and also engage with the authorities to implement long term solutions like a ban on plastic in Bakkhali Sea beach.
Here are some more images from our cleanup drive.