Arrest of bird poacher in Bilkurul Beel, Murshidabad
28 October 2022
Our regional coordinator in Murshidabad, Soumyadip Mondal and our volunteer team led by Kankan Burman aided the arrest of a bird poacher for laying traps to kill migratory birds in Bilkurul Beel.
Tipped-off by Kankan's volunteer team on 27 October, Soumyadip informed the Forest Department of bird trapping nets being erected in Bilkurul beel. The next morning, forest officials along with our team went to the spot and apprehended the bird poacher while he was extricating the birds from the nets. The culprit, identified as Ratan Mondal, was arrested by the forest officials. He was produced before the court and subsequently remanded to judicial custody till 09 November
The birds trapped by the poacher were alive and identified as different species of sandpipers by veteran birdwatcher and our advisory member Sujan Chatterjee. Just like these sandpipers, thousands of others migrate to wetlands across West Bengal for their winter sojourn. Unfortunately, these wintering grounds turn into killing fields for these migratory birds which are trapped and sold for consumption.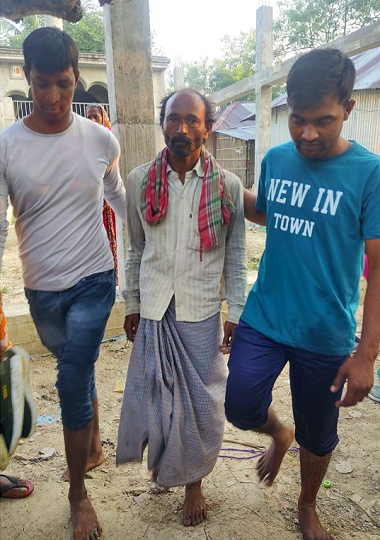 Thanks to the constant surveillance by our passionate team members like Soumyadip and our active local volunteer network, we have been able to unearth extensive bird poaching rackets in the past.
Soumyadip is one of our most zealous members who has helped bring numerous urgent conservation issues to the forefront such as the destructive practice of Makhana cultivation in Bilkurul Beel itself. We are working actively to eradicate this nuisance from the wetland and monitoring it regularly, which has helped in mitigating other threats like bird poaching.
We extend our sincere thanks to the Murshidabad Forest Division for their prompt action. The incident was covered in the media by The Telegraph and Anandabazar Patrika.