Action against the malpractice of 'Hulla'
October 2017 – May 2018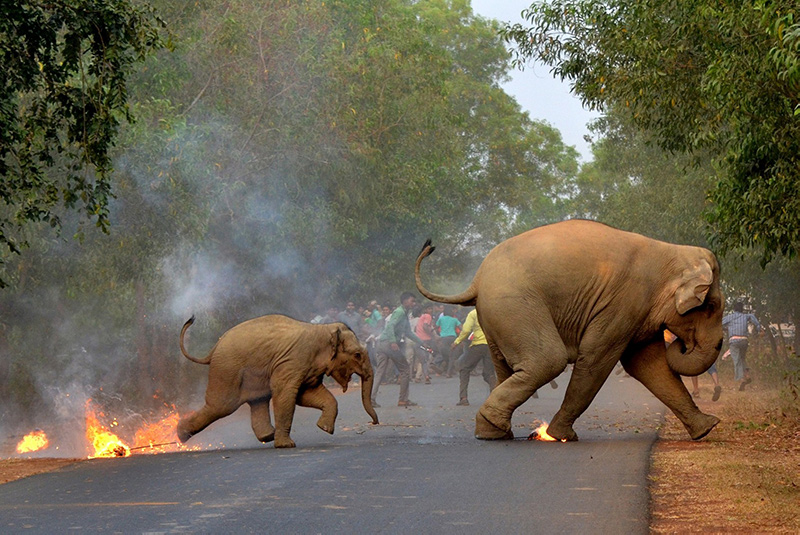 Perhaps one of the most atrocious approaches taken by the state to address human-elephant conflict has to be the summoning of 'hulla parties'. Hulla parties are a group of people who are tasked with driving away elephants whenever they enter farmlands. During these drives, the hulla workers use iron rods with spiked tips wrapped in gasoline soaked cloth. The rods are then lit up and used to scare off elephants from fields.
These drives very soon get out of hand. Unruly mobs surround elephants and begin throwing firecrackers, lit torches and fire balls at herds which often comprise young calves. Traumatised, the elephant herd breaks up and disperses in different directions, inflicting further damage. In one incident a young calf was killed by an incoming train after being chased off by hulla parties. In other scenarios, protective adults charge back at the crowd, resulting in human death.
Clearly, these scare tactics, which are said to protect croplands and farmlands, are a severe threat to the survival and well-being of elephants and create grounds for further conflict. Only one entity benefits from this chaos, ie, the hullah workers who earn out of elephant drives.
In 2018, a Public Interest Litigation (PIL) was filed in the Supreme Court by renowned journalist and an Advisory Member of HEAL, Prerna Singh Bindra and other wildlife activists against these hulla drives in South Bengal. The state of West Bengal denied that such events take place in West Bengal despite much evidence to the contrary.
HEAL had been closely following these incidents in several districts of South Bengal. To support the PIL, we carried out photo and video documentation of the hulla drives. The documentation acted as crucial evidence and bolstered the arguments against the derogatory practice of hulla.
Consequently, the Apex Court passed a judgement in 2018 disallowing the use of spiked rods and hurling of fireballs during the hulla drives. Later on the Court passed another order stating that lit torches or mashaals can be used only as an emergency measure during hullah drives. However, there have been incidents where this order has been openly thwarted and elephants have been abused by fireball hurling rowdy mobs.