Protecting the Fishing Cat
Wetlands are our food baskets, water reservoirs and carbon sinks. Yet, they are treated as wastelands and blatantly diverted to fuel unsustainable growth and development. As a result, species supported by these vulnerable ecosystems find themselves inching closer towards extinction.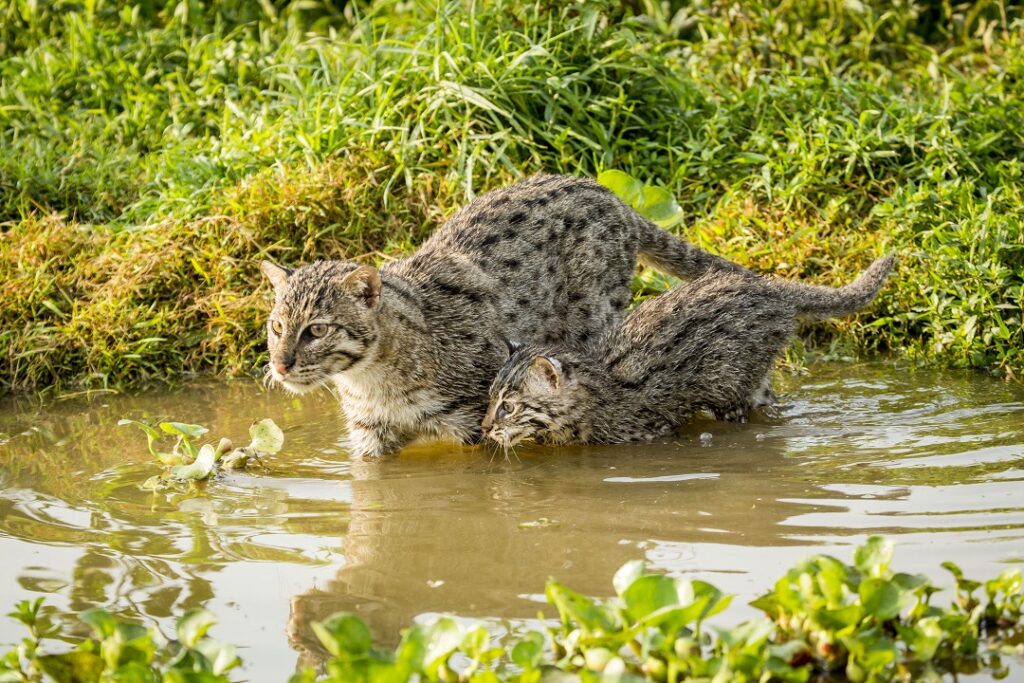 The fishing cat (Prionailurus viverrinus) is the perfect example of this dystopian reality. This small wild felid, with its appetite for fish and a body fabulously designed to hunt it, is a wetland specialist. Its patchy distribution mostly encompasses growing economies of South and Southeast Asia where wetland reclamation occurs at an alarming rate. As a result, this elusive night prowler has been deemed Vulnerable by the IUCN. West Bengal's low lying floodplains of the Ganges river basin constitute the most promising region for the fishing cat. But here too, the cat faces a host of challenges that threaten its survival.
Fishing cats are also persecuted in retaliation for stealing fish from backyard ponds and allegedly taking livestock such as poultry and small sized goats. Lastly, due to their predominant distribution outside protected areas, fishing cats are vulnerable to ritualistic hunting; annual gatherings of South Bengal's rural communities where protected wildlife, including fishing cats, are illegally massacred in the name of tradition.
In all of these crimes committed against the fishing cat, a Schedule I species and the State Animal West Bengal, prosecution by the enforcement agencies has been woefully inadequate. When such crimes go unaddressed, it sets a dangerous precedent; it enforces the wrongful belief that killing a fishing cat will invite no consequences.
Measures undertaken by HEAL
Ecosystems like wetlands, which lie outside the purview of protected areas have been the focus of HEAL's conservation efforts since its inception; therefore, its apex predator – the fishing cat – is a conservation priority for us. We strive to preserve this resilient wild cat by employing a multitude of approaches that address the several threats :
Habitat protection: In collaboration with another non-profit organisation PUBLIC, HEAL initiated West Bengal's longest running environmental litigations to end the encroachment of Dankuni Wetlands – the largest remaining contiguous marshlands in the lower-Gangetic floodplains and prime fishing cat habitat. This nine year long legal battle culminated in an order passed in May 2022 which extends protection to all wetlands of the state over 2.25 hectares, thereby, ensuring that fishing cat habitats remain intact.
Mitigating road mortality: Recognising the severity of the risks presented by vehicular collision to fishing cats abounding the human dominated areas of Howrah, HEAL installed reflector signs alongside vulnerable stretches of roads in four administrative blocks of the district in 2021. These signs were designed to catch motorists' attention at night and oblige them to reduce their speed. Driving slowly increases reaction time which is extremely crucial to prevent road mortality of wildlife encountered on road. During the day, these signs function as awareness boards. We are grateful to our members for generously contributing towards this cause.
Awareness generation: HEAL plays a supporting role to The Fishing Cat Project – the world's longest running research and conservation project on the fishing cats. Together, we conduct awareness drives in conflict hotspots and organise education programs in collaboration with the West Bengal Zoo Authority. We undertake these initiatives with the aim of fostering coexistence values in communities sharing space with the fishing cat by generating awareness, dispelling myths and turning their fear into fascination for the fishing cat.
Enclosure enrichment and Rehabilitation support: HEAL assisted Gorchumuk Mini Zoo in Uluberia, Howrah district to refurbish their fishing cat enclosure. The interiors were redesigned to mimic the fishing cats' natural habitat, replete with dense hydrophytic vegetation for camouflaging and a deep water pool for recreation. The efforts taken in detailing the enclosure, as close to fishing cats' preferred habitat as possible paid off, when in [date] two of the cats gave birth to a litter – a very difficult feat to achieve when managing captive fishing cats. Further, in January 2021, HEAL member Baibhab Roy generously donated a spacious enclosure to house rescued fishing cats while they rehabilitate until they are deemed fit to be released back in the wild.