our team member received a tip off about turtle trade happening in a trader's house in the Gazole area in Malda
18 April 2022
We are happy to report that HEAL members in Malda, led by Jayanta Chakraborty got a turtle dealer arrested after a covert operation based on intelligence provided by our local informers. The raid was conducted with the help of the forest department.
It all started when our team member received a tip off about turtle trade happening in a trader's house in the Gazole area in Malda. On 10 April, 2022 posing as buyers, our volunteers interacted with the turtle trader and confirmed his whereabouts. On 12 April, our members held a meeting with the Range Officer to devise a plan to nab the culprits.
Thereafter, an operation was conducted jointly by the forest department and our team and the culprit was arrested red-handed. Of the 17 Indian Softshell Turtles that were seized, 12 are Indian flapshell turtles and 5 are Gangetic soft shell turtles. The turtles weighed 15 kg on an average. They were taken to the forest office and were eventually released in the Ganges.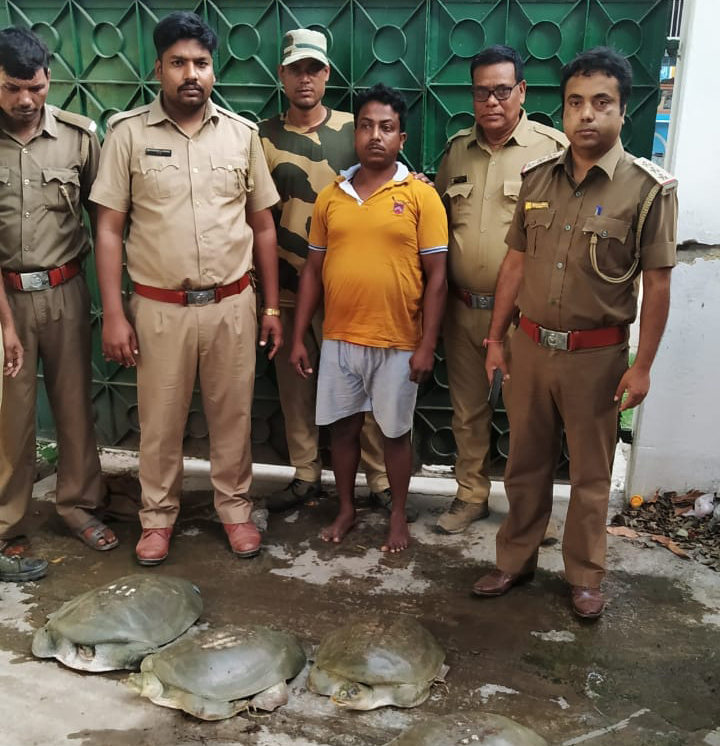 The arrested trader is a repeat offender and has been remanded to judicial custody till 22 April 2022.
One should be vigilant about any such illegal activities happening and report the same to relevant authorities. Timely steps can help protect and conserve our nature and wildlife.
We sincerely thank the DFO, Malda Forest Division and the concerned ranger who made this possible and let our members accompany the Forest officials during the release of the reptiles.