Hill forests in the northeast and southeast parts of Bangladesh are broadly considered as mixed-evergreen. Hill forests in the northeast are mostly fragmented secondary growths. Some notable national parks and birding hotspots in the northeast are Lawachara National Park, Rema-Kalenga Wildlife Sanctuary and Satchari National Park. Primary forests still exist in remote Chittagong Hill Tracts in southeast Bangladesh. Some of these are Sangu-Matamuhuri Reserve Forest and Kassalong Reserved Forest.
Here is a collection of various bird calls recorded from the Hill forests of North-eastern and South-eastern Bangladesh over a period of time . These are several small clips recorded separately and merged together. You can hear these birds in the recording :
Red Junglefowl
Striped Tit Babbler
White-rumped Shama
Common Cuckoo
Large Scimitar Babbler
White-browed Scimitar Babbler
White-cheeked Partridge
Lineated Barbet
Blue-throated Barbet
Lesser/Greater Necklaced Laughingthrush
Greater Racket-tailed Drongo
Hair-crested Drongo
Spotted Dove
Eurasian Collared Dove
Red-breasted Parakeet
Ruby-cheeked Sunbird
Asian Drongo-Cuckoo
Oriental White-Eye
Puff-throated Babbler
Rufous-fronted Babbler
Grey-bellied Tesia
White-throated Bulbul
Red-whiskered Bulbul
Red-vented Bulbul
Black-crested Bulbul
Black-hooded Oriole
Green-crowned Warbler
Common Iora
Large-billed Crow
Golden-fronted Leafbird
Black-naped Monarch
Chestnut-headed Bee-eater
Brown-cheeked Fulvetta
Little Spiderhunter
Common Green Magpie
Oriental Magpie Robin
See how many you can spot!
---
Habitat images of Forests of South-eastern and North-eastern Bangladesh from where the calls were recorded
Photo Credit: Sayam U Chowdhury
---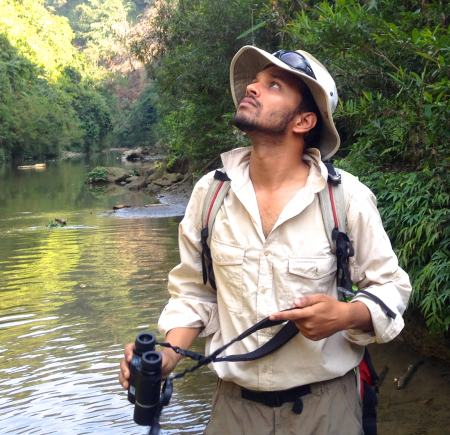 The writer is a Conservation Biologist and Ornithologist, currently working on threatened species conservation and research in Bangladesh and abroad. He can be reached at [email protected]